Aqualine Voyager Dutch Barge Wins Award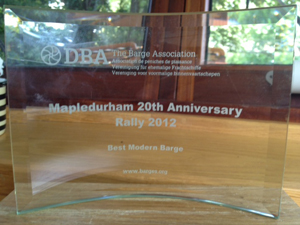 We have just received some great news about one of our Aqualine Voyager Dutch Barges. In August the 20th Anniversary Rally of the DBA Barge Association took place, at Mapledurham on the Thames. During the rally there are 'open barge' visits, and the rally participants then get to vote for the 'Best Modern Barge' award.
The winner this year was an Aqualine Voyager, the Dutch Barge called 'Tartuga'. Tartuga's owner, Mr Brian Strange, was delighted to win the award, and the team responsible for manufacturing her over in Gdansk are thrilled to hear the news, as we are here at The New & Used Boat Co.